Summer Camps at Upper Mace Equestrian Centre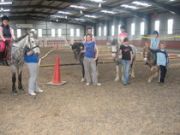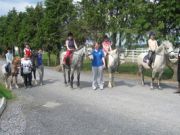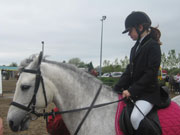 Have a horse-mad child who would love to experience life in an equestrian centre? If so the brand-new Upper Mace Equestrian Reality Camp is just what they need!

Reality Camp
Your child will live at our equestrian centre in Knock, Co. Mayo for a full week. During the week, children learn the basics of pony care and health, they learn how to groom, tack a pony and clean out the stables. The Children receive a 1 hour lesson each day, which incorporates fun and games into their learning experience.

They will also take part in all the various activities of the equestrian centre. Day to day activities include mucking out, helping around the yard, as well as spending an hour learning from equestrian professionals such as vets and farriers.

Day Camp
We also run a week-long Day Pony Camp which runs from 11am to 2pm each day. The children will learn about pony care and health as well as grooming, tacking up and other stable activities. The children also receive a 1 hour lesson each day.

For both camps, meals are provided during the week. Upper Mace Equestrian Pony Camps are a great way for children of all ages to take part and learn with a hands-on approach to pony-care, as well as having great fun and making lots of new friends in the process!
To find out more about our pony camps in Mayo, Contact Us